Happy Summer! ... "Mom, I'm Bored!"
Happy Summer! School's out! The kids are home and free ranging! In the spirit of breezy summer days, here are some quick crafts to try. These work for summer camp crafts too!

We took several of
our newest arrivals (see them all here
) and incorporated them into some simple add a bead necklace combos.

Boredom Buster Recipe: Take 1 set of our 370K-10pack (has 1 open end for threading on) and slide any of our bead mixes with holes of 2mm or larger - secure the other end with a little dab of e6000 or jeweler's glue - you have an instant slumber party or camp craft.

Here are links to the bead mixes we used for this group, top to bottom: 1307L, 1307H, 1747V, 1307B, 1307Q, 349D, 1134, 1384. Alternate bead mixes that would also work ~ any of our resin beads, looped glass charms, and larger holed sea glass bead mixes.


Look how cute and easy these are! We used some of our new Starfish Lampwork Glass Beads 349D on our 370K-10pack kit here. Spacers are our 1373 Rainbow Swirl Lampwork Glass Donuts. See all of our sample designs in our blog.


Earrings in a Minute? Here's How!
We have a new summery selection of handblown fruits and veggies - attach with a jump ring to an ear wire and you're done before you start! Add 2 jump rings and ear wires, you've got a pair of earrings in under a minute! Easy summer craft to share with friends or groups :-) Find them all here:

Earwires, jump rings:
Summer Seas Wrap Bracelet


Here's what our friend Shenoa made with some of our sparkle, watercolor and color-themed sparkling rondelle mix beads on memory wire. Just make a simple loop to finish each end. A great project to share with beginning crafters!
10 Pack Cord Kits Make for Instant Fun You will need to add a dab of jeweler's glue or e6000 to the open end of this cord. DIY Black rubber necklace KIT. 18" length. 2mm thick. Makes TEN completed necklaces. Open ended to fit any pendant with opening greater than 2mm. Sterling silver plated clasp. Add any bead, charm or pendant onto the 2mm cord, then secure the clasp (glue, crimp etc.) Makes anything a completed necklace - no worries about bail openings! - See all of our newest cord packs here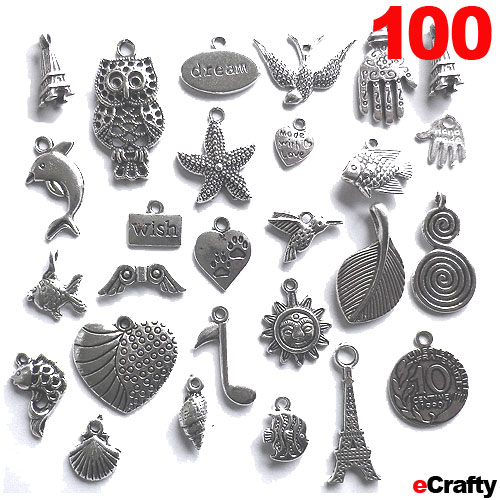 eCrafty Charms Mega Mix
Over 100 high-quality lead, cadmium and nickel-free charms sure to be a hit for quick jewelry and crafts. Great idea for troops, groups or girls' night. See ALL of our Mega Mix items here
Return of the Retro Beehive Ladies!

10 handmade 1" polyclay beads brimming with retro personality. Holes, 1mm, run top to bottom, vertically through beads. Handmade - expect each may be slightly different in size, shape, expression, coloring.

New! Sea Glass Beads Rounds Mega Mix in 4mm, 6mm
Perfect size for summertime jewelry making!

Sea Glass Round Beads Mega Mix ~ Six feet - Over 250 beads ~ 4mm & 6mm assortment. 1/6 to 1/4"" each or 4 to 6 per inch when strung. Create gorgeous organic designs with our new beach glass finished beads. Wonderful accents for our mini glass bottles.

See all of our Sea Glass Rounds here:


Anne's Simple Sea Glass Necklace
Anne made an elegant necklace with just a few of our sea glass nugget beads, sea glass rounds, and our simple silver spacers 517a. The soft hues of the sea glass finished beads just glow in this quick and easy creation. See all of our sea glass finished beads here:


Sea Glass Topped Mini Bottle Charm
Look what Anne whipped up in no time with just one of our sea glass rounds 1302a, an eye pin 1555E and our mini bottle 1200L. How cute are these? Super easy to make in groups ~ just thread the bead onto the headpin and stick into the cork. My kind of easy!
What's New in Dollar Crafts?
You Might Be Surprised!
All of our newest 18mm gorgeous graphic print resin beads ~ just .99 cents a bag! Take a peek - we're always adding to this section - some new, some old, some closeouts - always fun fab and frugal crafting ideas!


One (1) Large Oval Paris Eiffel Tower Postmark .99 cents! pendant charm. 35x50mm or approx. 2". Lovely one-sided printed collage design. Scallop edge detail. 3mm Hole. Back side is random smoothed textured silver plated design


10 Handblown Millefiori Art Splash Lampwork Beads Coins .99 cents
10pc 20x10mm. Hole 2mm. Fits our add a bead neck cords and other 1.5- 2mm cords and chains. Great little accents!